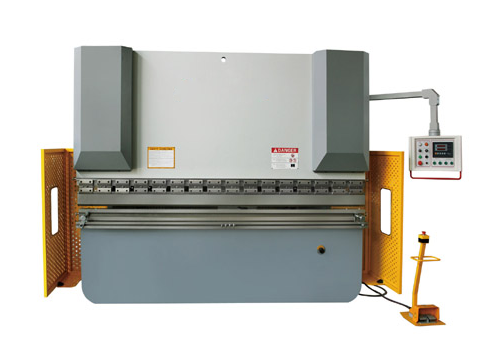 Main features:
1.The whole machine is in sheet plate welded structure,which internal stress eliminated by vibration aging technology,high strength and good rigidity of machine.
2.Double hydraulic oil cylinder is applied for upper transmission,provided with mechanical limit stopper and synchronous torsion bar,typical of stable and reliable operation,as well as high precision.
3.Electrical control and manual fine-tuning mode are adopted for distance of rear stopper and stroke of gliding block,and fitted with digital display device,easy and quick in use.
4.Upper die is fitted with deflection compensation device.
5.Safety guide is optional. (It has protection barrier and photo-electric protection device).

Main specifications:
Type

Nominal

Force (KN)

Worktable
Length(mm)

Poles Distance
(mm)

Throat
Depth(mm)

Slider
Travel(mm)

Max
Open(mm)

Power
(kw)

40T/2200

400

2200

1875

230

100

320

5.5

40T/2500

400

2500

1875

230

100

320

5.5

50T/2500

500

2500

1875

230

100

320

5.5

63T/2500

630

2500

2020

250

100

320

5.5

63T/3200

630

3200

2575

250

100

320

5.5

80T/2500

800

2500

2020

300

100

320

7.5

80T/3200

800

3200

2590

320

100

350

7.5

80T/4000

800

4000

3050

320

100

350

7.5

100T/2500

1000

2500

2020

320

120

320

7.5

100T/3200

1000

3200

2600

320

120

370

7.5

100T/4000

1000

4000

3050

320

120

370

7.5

125T/3200

1250

3200

2600

320

120

370

7.5

125T/4000

1250

4000

3050

320

120

370

7.5

160T/3200

1600

3200

2600

320

200

460

11

160T/4000

1600

4000

3000

320

200

460

11

160T/5000

1600

5000

4000

320

200

460

11

160T/6000

1600

6000

4940

320

200

460

11

200T/3200

2000

3200

2600

320

200

460

11

200T/4000

2000

4000

3000

320

200

460

11

200T/5000

2000

5000

4000

320

200

460

11

200T/6000

2000

6000

5000

320

200

460

11

250T/3200

2500

3200

2500

400

250

590

18.5

250T/4000

2500

4000

3000

400

250

590

18.5

250T/5000

2500

5000

4000

400

250

590

18.5

250T/6000

2500

6000

5000

400

250

590

18.5

300T/3200

3000

3200

2530

400

250

590

22

300T/4000

3000

4000

3470

400

250

590

22

300T/5000

3000

5000

4000

400

250

590

22

300T/6000

3000

6000

5000

400

250

590

22

400T/4000

4000

4000

3000

400

250

590

30

400T/5000

4000

5000

4000

400

250

590

30

400T/6000

4000

6000

5000

400

250

590

30

500T/5000

5000

5000

4000

400

250

590

45

500T/6000

5000

6000

5000

400

320

590

45

600T/4000

6000

4000

3000

400

320

590

55
​