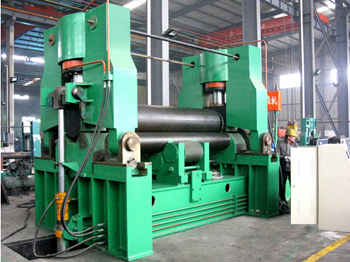 Main functions:
1) The upper roller is drum-shaped and the lower part of lower roller has a supporting roller for adjustment. It can bend thin or thick plates with high straightness.
2) The unique back rolling technology ensures the precision of products without dead bending or other inaccuracies.
3) The plate edge pre-bending is direct pressure, it's enable to control the size and the shape of the remained flat side and achieves high precision edge pre-bending.
4)This machine has a single-part base, and simple foundation, and easy to move.

Model
Max. thickness(mm)
Width
Top
roller
Bottom
roller
Distance Of
bottom roller
Motor (KW)


Pre-bend
normal
(mm)
(mm)
(mm)
(mm)
Main
Hydraulic
W11S-16*2500
12
16
2500
330
165
270
11
7.5
W11S-16*3200
12
16
3200
360
180
330
22
7.5
W11S-18*4500
16
18
4500
490
250
400
37
11
W11S-20*2000
16
20
2000
340
180
330
22
7.5
W11S-20*2500
16
20
2500
360
180
330
22
7.5
W11S-20*3200
16
20
3200
380
220
360
30
11
W11S-25*2000
22
25
2000
360
220
360
30
11
W11S-25*2500
22
25
2500
380
240
360
30
11
W11S-25*3200
22
25
3200
410
260
380
37
11
W11S-30*2500
25
30
2500
410
260
380
37
11
W11S-30*3200
25
30
3200
440
260
400
37
11
W11S-35*2000
30
35
2000
440
260
400
37
15
W11S-35*2500
30
35
2500
460
275
420
37
15
W11S-35*3200
30
35
3200
560
290
500
55
22