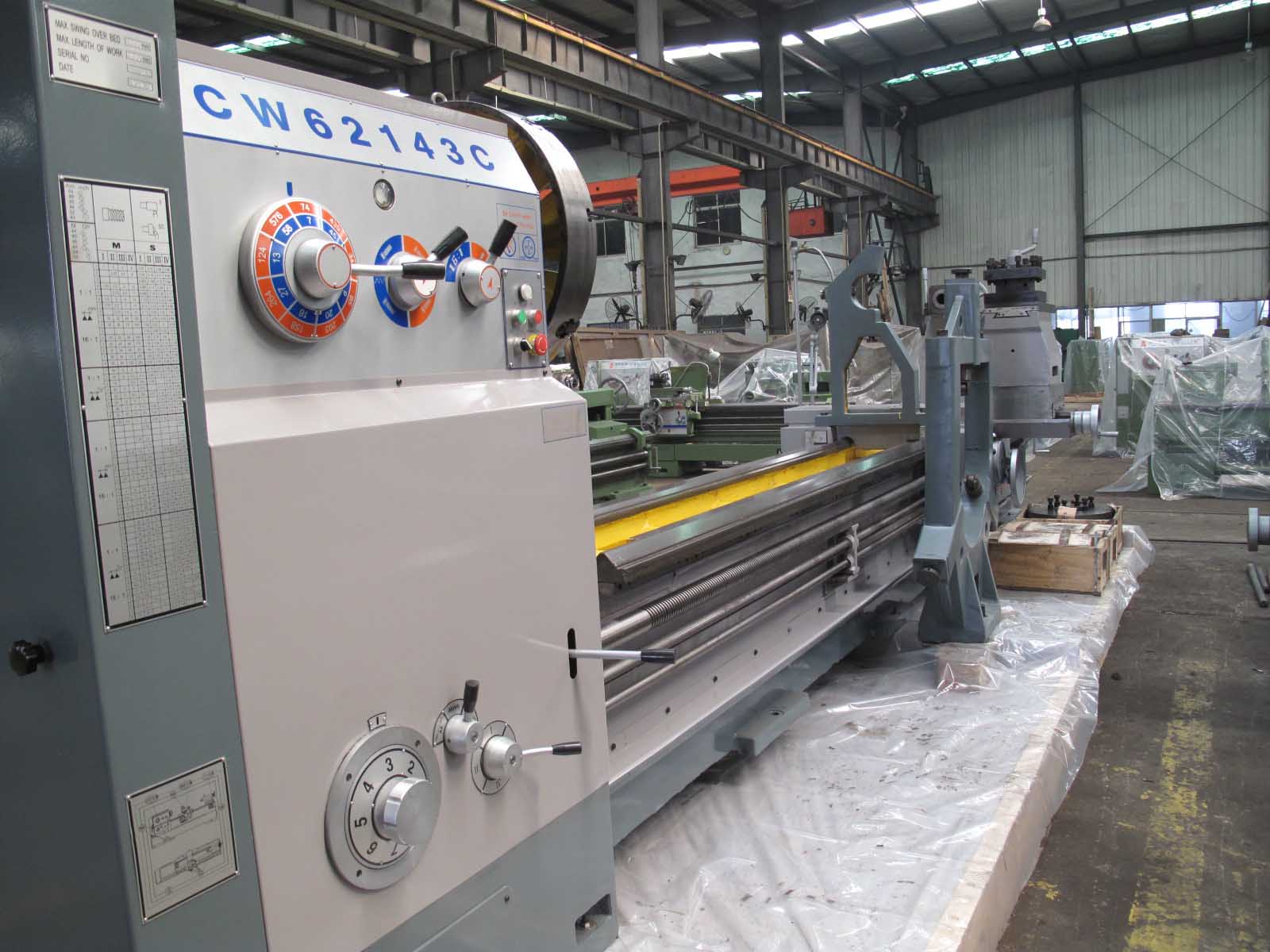 Main features:
1)This type machine has good reputation in this line and is popular in domestic market and abroad.
2)The lathes of this series are suitable for turning internal, external, and cylindrical surface as well as other rotary surface.
3) This kind of lathe can be used for turning different metric, inch, module, and diametrical threads and also can be used for performing drilling, reaming and broaching oil grooves etc.
4) The machine can process bigger plate work piece in gap of the bed. The roughness of the parts, which are finished by this lathe, are up to 3.2μ M, the accuracy of the dimension can reach IT7.
Model

Unit

Model

CW62103C

CW62123C

CW62143C

CW62163C

CW62183C

Swing over bed

mm

1030

1230

1430

1630

1830

Swing in gap

mm

1200

1400

1600

1800

2000

Swing over cross slide

mm

700

900

1100

1240

1440

Distance between centres

mm

1500.2000; 3000; 4500; 6000

Length in gap from face plate

mm

380

Spindle nose

C11 or D11

Spindle bore

mm

105, 130

Spindle speeds

rpm/steps

10-800/18 7-576/18 6-480/18

Cross slide travel

mm

615 715 815 915

Top rest travel

mm

225 300

Rapid traverse

mm/min

Axe Z: 3200, Axe X: 1400

Quill dismater

mm

120

Quill travel

mm

270

Quill taper

MT6

Bed width

mm

610

Metric threads

mm/kinds

1-240/53

Inch threads

tpi/kinds

30-2/31

Module threads

mm/kinds

0.25-60/42

Diametral pitch threads

tpi/kinds

60-0.5/47

Longitudinal feeds

mm/r

0.07-16.72

Cross feeds

kw

0.04-9.6

Main motor power

kw

11

Packing size (mm)

Length

3840; 4340.5170; 6670; 8290

Width

1700

1700

1850

2000

2200

Height

1980

2080

2220

2280

2380

Gross weight

Kgs

5900

6500

7200

7800

8600

6250

6850

7400

8200

9000

6900

7500

8100

8900

9700

8000

8600

9000

9800

10600

9000

9600

10000

10500

11200