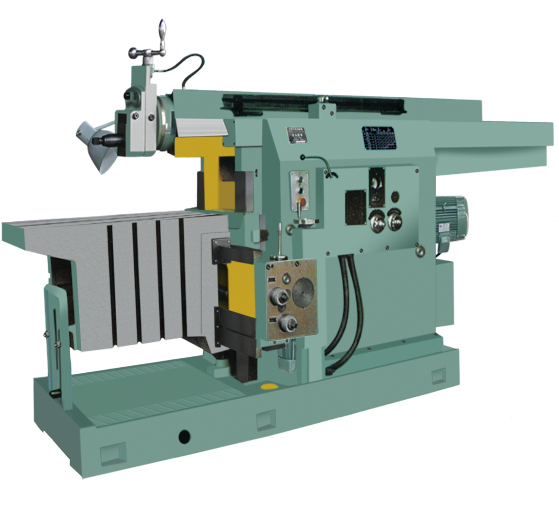 Main functions:
1)It is being designed for cutting various plane and formed surfaces, the machine is suitable for single piece and small batch production.
2)The feeding and main cutting motion of the machine are driven by hydraulic power with smooth transmission and their speed can be adjusted step-lessly.
3)Provided with a safety device against overload, the machine is easy to start and stop with short over-range. And it can also suit the needs of heavy-duty and continuous cutting with the characters of high rigidity, big cutting force, high precision of conversion, low oil temperature, less thermo-deformation and stable machining accuracy.
4)The table of the machine can travel either vertically or horizontally and the tool head is equipped with a lifter device. The machine is convenient to operate with the handles being centralized.
| | |
| --- | --- |
| Models | BY60100C |
| Max. shapping length | 1000 mm |
| Cutting speed of ram (stepless) | 3-44 m/min |
| Distance from lower edge of ram to upper surface of table | 80-400 mm |
| Max. cutting force | 28000 N |
| Max. travel of tool head | 160 mm |
| Max. section of tool (W×H) | 30×45 mm |
| Upper working surface of table (L×W) | 1000×500 mm |
| Width of T-slot on upper surface of table | 22 mm |
| Max. horizontal travel of table | 800 mm |
| Horizontal feed of table per reciprocating stroke of ram (stepless) | 0.25-5 mm |
| Main motor | 7.5 kw |
| Motor for rapid motion of table | 0.75 kw |
| Overall dimensions (L×W×H) | 4270×1610×1970 mm |
| Net weight / Gross weight (approx.) | 4350 / 4700 kg |